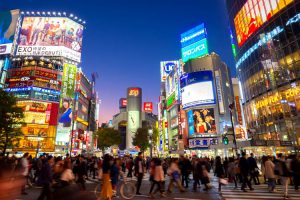 The location of The Hideout Tokyo is specifically selected to be a short walking distance to two of Tokyo's most important train lines – the Yamanote Loop Line (green) and the Hibya Subway Line (grey).
The Yamanote Line in particular – with Uguisudani Station just a 4 minute walk from our hotel – is the key to rapidly unlock the greatest sights, sounds and food of Tokyo in a very short time. This train line is constantly voted by citizens of Tokyo as the #1 public transport route they dream of living on, as it means almost everything is within a easy 30 minute direct train ride, with most places far less time than that.
With Tokyo being the 2nd most expensive city in the world to take a taxi and no cheaper Uber or Grab service here, taking the clean, cheap and safe JR train is the mandatory way to navigate the city. Staying at THT directly on the Yamanote Line ensures you get around quicker and easier than any other location.
Just some of the highlights of Tokyo that our Yamanote Line allows you to access rapidly are:-
Akihabrara – 6 minutes direct train from THT. The global mecca for lovers of Japanese anime, manga and video game culture – this electronic town an unmissable highlight of any visit to Japan for any person interested in modern Japanese culture.
Tokyo Station – 10 minutes direct train from THT. Tokyo Station is the hub for the country's huge shinkansen (bullet train) network so unlocks the rest of Japan. Take the JR rail pass to Kyoto, Hiroshima or beyond boarding the bullet train just a 10 minute ride away from your Tokyo Hotel.
Ginza – 12 minutes direct train from THT. Disembarking at Yurakcho Station Ginza is a two minute walk. This World famous district of luxury shopping and Michelin dining has something for everyone – flagship stores of all Japanese and international brands are here. Reserve a special dining experience at a restaurant in Ginza for a culinary highlight of your trip to Japan.
Shinjuku – 23 minutes direct train from THT. The "Lost in Translation" district from Sophia Coppola's iconic movie starring Bill Murray, Shinjuku really comes alive at night. Come armed with your camera and take some incredible photos of the neon night scenes. We recommend visiting on a rainy night to get some really amazing photographs of Tokyo's Neon rain which inspired Blade Runner and countless other cyberpunk movies.
Harajuku – 28 minutes direct train from THT. No where on earth has more forward thinking fashion and design than Harajuku. If you can imagine it, you can find it here. The famous Takashita dori is a mandatory stroll to see amazing things. As a total contrast Harajuku Station is also your gateway to Meiji Jingu Shrine, considered by many to be the finest shrine in Tokyo. It is the dream of most young Japanese girls to marry here – if you are lucky you will catch a traditional Japanese wedding taking place during your visit.
Shibuya – 30 minutes direct train from THT. Shibuya is Japan's youth culture heaven, where the young and trendy come to eat, drink and play. The streets here are alive with vibrancy. Shibuya is home to the entertainment, fashion and music industries of Japan so keep your eyes peeled for Japan's celebrates on the street and in the bars, you never know who might be sat at the next table when you are in Shibuya.